Welcome to the Beginnings Series Wiki
Edit
Welcome to the Beginnings Series wiki. We're a collaborative community website about your topic that anyone, including you, can edit. Click the edit button at the top of any page to get started!
Beginnings Series
Edit
Since its public release in early 2013, Beginnings has started to catch on. Its interwoven storylines and eccentric characters make each book a fun and emotional read. Don't miss out if you haven't started.
The Beginnings Series takes you from Apocalypse to Dystopia. From plague to survival and so forth.
At this point, there are 27 completed books in the main story series, with 6 sidebar books. Beginnings sidebar books have only a little to do with the main series and utilize the characters in different pre-apocalypse storylines.
Beginnings is also a series that can be watched in fall 2017 on Amazon Prime and MaddyG TV
Latest activity
Edit
Photos and videos are a great way to add visuals to your wiki. Find videos about your topic by exploring Fandom's Video Library.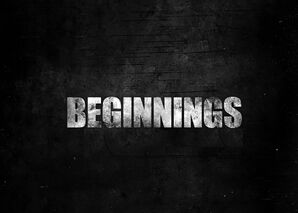 Ad blocker interference detected!
Wikia is a free-to-use site that makes money from advertising. We have a modified experience for viewers using ad blockers

Wikia is not accessible if you've made further modifications. Remove the custom ad blocker rule(s) and the page will load as expected.